Eliminating Racism Matthew 7:12
Praying over the City at YWCA St. Paul – Health & Fitness
August 7, 2018 · Saint Paul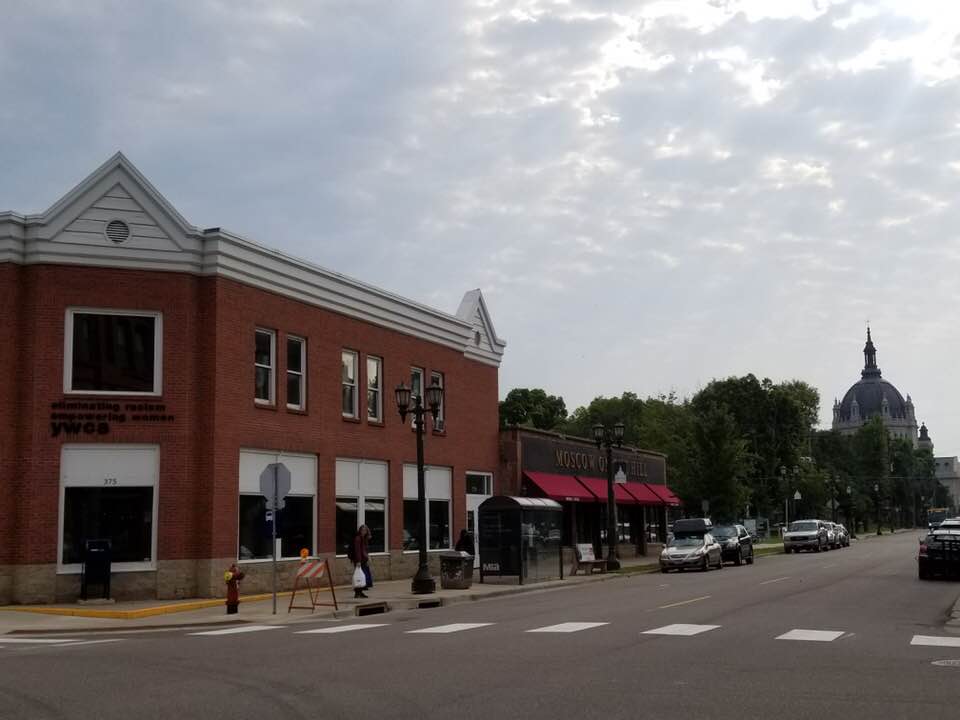 I want to call your attention to the sign above the door of the YWCA, which is across the street from Nina's. It's a powerful mission, "ELIMINATING RACISM–EMPOWERING WOMEN". Gosh darn, I feel a two-part prayer coming on. No way to cover those four words, two different points, in one post. Frankly, each of them deserves their own prayer.
ELIMINATING RACISM—ELIMINATING. Wow! Not just reduce it. Not increase awareness—ELIMINATE it, and we can't do that UNLESS we find all the little crevices that racism hides. There's been a lot of talk of racism lately and a lot of defensiveness around it. No one wants to be a racist—CORRECTION, there are those select few that this sort of baseless hatred is their norm. They relish in it—they recently marched at DC, but most of us want to eliminate racism—some of us think we have—and therein lies the problem, if we don't know what racism is, we cannot ELIMINATE it.
You've heard of the Golden Rule, right? DO ONTO OTHERS AS WE WOULD HAVE THEM DO ONTO YOU. (Matthew 7:12) Many of us try to live by this, but I don't know about you, I fail miserably EVERYDAY. Heck, if I really treated others as I want to be treated, I'd buy other people coffee ALL the time because I want people to buy me coffee. LOL!
You get the idea. Even this one is tough to master, but have you heard of the PLATINUM RULE? This one says we should treat other people the way THEY want to be treated. Even harder, and this is the one we need to fight racism.
There are lots of people refusing to listen to people of color. We need to listen and validate their experience. I don't know what it's like to be African, Latino, Native, Asian…I only know what it is like to be me, and that's all you know too—what it's like to be you, and our experience is NOT the same as anyone else's. So, let's start listening. Let's start caring about how other people feel and do the things that help them feel better.
Dear Heavenly Father, it is so easy to get trapped into our own perspective and our own determination of "right". What we need is Your determination of "right". Please speak to us through the people around us. Let us be open to their cares, their concerns, their needs. You modeled sacrifice and selflessness—You did nothing to better yourself. You lifted all of those around you and even took to wash their feet. Please give us that same heart. We want to be more like you, and Lord, we want to ELIMINATE the hatred of racism. Please help us see it and stand against it.
Whew, that one is a powerful one. I pray ALL people of the world embrace this idea and let's ELIMINATE RACISM! I got a few prayer requests yesterday. YAY! You are with me, as well as those that came before. Please lay your needs on me. I care about you!