Beautiful Artwork Psalm 139:13-18
Praying over the City at Nina's Coffee Cafe.
August 6, 2018 · Saint Paul ·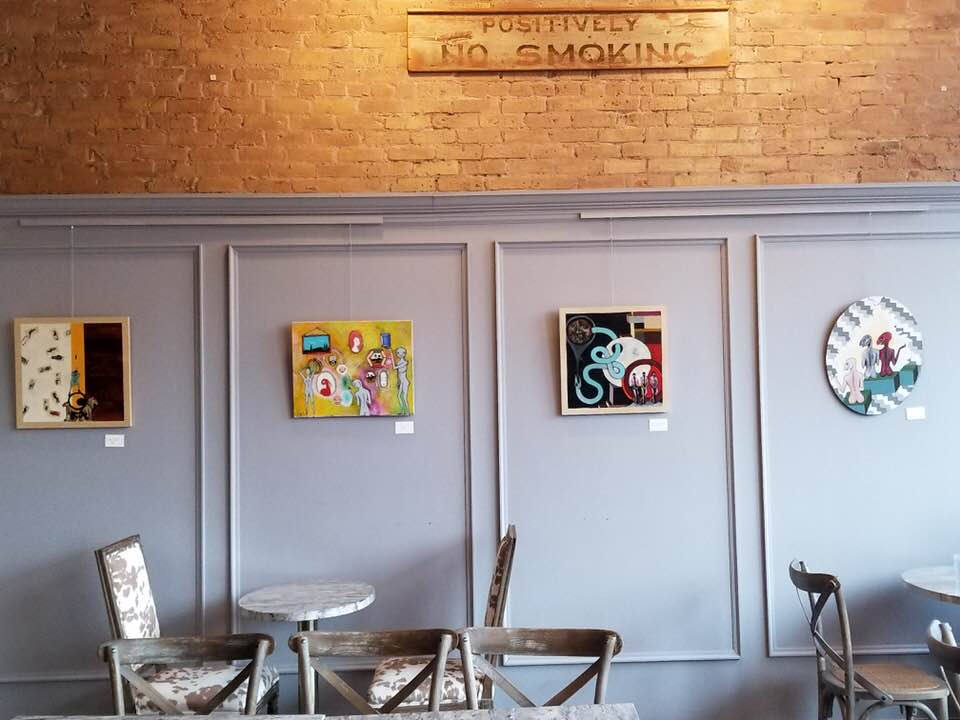 They say beauty is in the in the eye of the beholder. That applies, most certainly, to the beauty in artwork. These are interesting, but you won't find them hanging in my home. (Now, one of you is bound to buy one forcing me to hang it under the obligatory gratitude code. LOL!)
Yesterday I was talking with a dear friend about her art. She'd taken the afternoon to do some painting and I suggested she send me a picture of her work when she was done. It was wonderful—truly. She has an eye for special nuances and shading. As we chatted, she said, "I just hope I don't wreck it like the last one." Then went on to say, "I guess if I do screw up, it's ok. It's all about learning."
I asked to see the "wrecked" piece and truly, I loved it too. Granted, it wasn't as good as the newly crafted model. She had learned and improved, BUT it was still very good—beautiful.
All of this got me thinking about two things. One, how very hard we are on ourselves. I'm unsure if it's the same for men, I must believe it is, but I know for women, we are constantly comparing ourselves and striving for an ideal that, quite frankly, is many times unattainable. With that, comes thought two, we are bound to screw up. We are flawed beings. How very boring life would be if we were all perfect—what would that look like anyway? So, when we mess up, let's take it in stride, like my wonderful friend, and, accept ourselves, then embrace the opportunity to learn.
Dear Heavenly Father, you crafted each of us to be unique beauties—I'm talking to the men too—each with our own flaws and dispositions. Today and every day, may we drop any idea of perfection—it only serves to shame us—and embrace those flaws in us and in others that offer the uniqueness You created. When we do make mistakes, we pray you forgive us, and we are bold enough to admit it to others, then pick things up again so we can learn and improve. We are working to be better for You and to enrich the world with the beauty You'd intended.
Many of you have told me you appreciate these posts which I am so glad. I love writing them. I am not getting the same number of prayer requests. If something is on your heart, please lay it on me. I want to connect with you Spiritually. With much love…always. <3
Psalm 139:13-18 New Living Translation (NLT)
13 You made all the delicate, inner parts of my body
and knit me together in my mother's womb.
14 Thank you for making me so wonderfully complex!
Your workmanship is marvelous—how well I know it.
15 You watched me as I was being formed in utter seclusion,
as I was woven together in the dark of the womb.
16 You saw me before I was born.
Every day of my life was recorded in your book.
Every moment was laid out
before a single day had passed.
17 How precious are your thoughts about me,[a] O God.
They cannot be numbered!
18 I can't even count them;
they outnumber the grains of sand!
And when I wake up,
you are still with me!