Trump Derangement Syndrome Mark 6:11
Praying over the city in Saint Paul, Minnesota.
August 12, 2018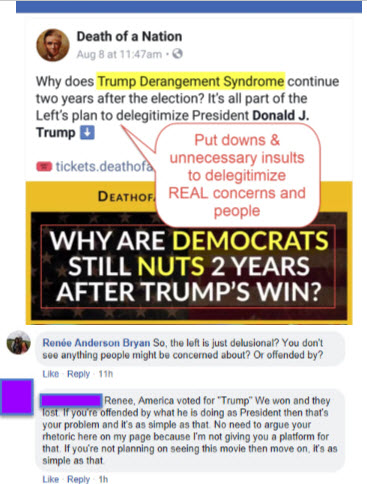 Today's morning prayer is written from my laptop in my sunroom office. It's the only place I can craft the contraption highlighting information, adding notes, and keeping my dear friend anonymous. My home office isn't a bad place to be either. It's an elevated work station, tucked in the windows, overlooking Saint Clair Avenue. Not as trendy as Nina's, but pretty swanky nonetheless.
Last night, I tossed and turned a bit. What was on my mind was this post in which Fox News was claiming the left was deranged and nuts two-years after the election, implying that this whole group of people just couldn't accept he's President.
I was offended. Any objection I have to Trump is so much more than a group of people voted for him, and to be slighted and marginalized and condemned for having differing views, well, that smacks in the face of my sensibilities. What I know this country stands for.
I debated even saying anything to my friend. I'm sick of the conflict, but I stand behind the questions that I wrote. They illustrate the deeper part of this problem, and I appreciate my friend's response. He didn't attack me and stated his case. I respected it and didn't post this commentary there. I chose to post is here.
This TRUMP DERANGEMENT SYNDROME is scary stuff too. It delegitimizes any concern one might have against this administration, makes them crazy and part of the problem. Google it, you'll see.
This is the deal. I don't care if you voted for Trump and I don't care of you still support him. I didn't question this because you might see a movie. Heck, I might go see this movie too. That is NOT my point and NOT my concern.
What I do care about is American values of LIBERTY for all. I care about what we are projecting to the world, and how we show God we are grateful for the bounty that we've been given by realizing we are just one country on this vast globe. I care about kindness, justice, compassion, fairness, and truth, and what I care about above all is what Jesus would have me do to share what I've been given and protect those who are disenfranchised. What I want is people in my life who care about those same ideals and are willing to discuss it with the goal in mind of coming together for a greater good for all. That's what I care about.
Yesterday I unfriended someone for another racially divisive post. I'd explained before how it was damaging and instead of even responding directly to me, his friend group attacked me. I love this person, but I do not want to be subjected to this hurtful stuff anymore, and I'm not talking about me being hurt, I am talking about how this stuff further dehumanizes the black people of America. That hurts me…and I'm DONE!
At the time that whole discussion was going on, the racist banter stated above, I was reading Mark 6 where Jesus commissioned his disciples to go out and spread the Gospel. At verse 11, our Commander and Chief–the one I honor and obey above all others–Jesus Christ says this, " And if any place will not welcome you or listen to you, leave that place and shake the dust off your feet as a testimony against them."
This is a hard thing for me to do. I care about and love all people, but I've been expending a lot of energy trying to share a message with some who just don't want to hear it. The thing that I won't stop doing, even if you think I'm NUTS or DERANGED, is protecting people and standing up for what I believe is right. That's what Jesus did and I'm going to follow Him.
Dear Heavenly Father, You see the battle every day. You know where those evil forces are, AND you too know how Satan is a wicked liar. It is so easy to be deceived. May we find comfort in the fact that EVERYONE who God used for the greater good suffered. Joseph, Moses, Daniel, Ruth and above all Jesus who never even did anything wrong…when times are hard, we are in good company. Please comfort us in those dark times and Lord, please soften all our hearts so that we may know exactly what You want us to do in every circumstance. In Your Mighty Name…amen.
I haven't wanted to get political on these posts. God kept me tossing on this one for a reason and now, I feel at peace. If you have prayer requests for me, please lay them on me. Love you all and your prayers are with me.