Live at Peace with Everyone Romans 12:18
Praying over the city at Minnesota State Capitol.
August 13, 2018 · Saint Paul ·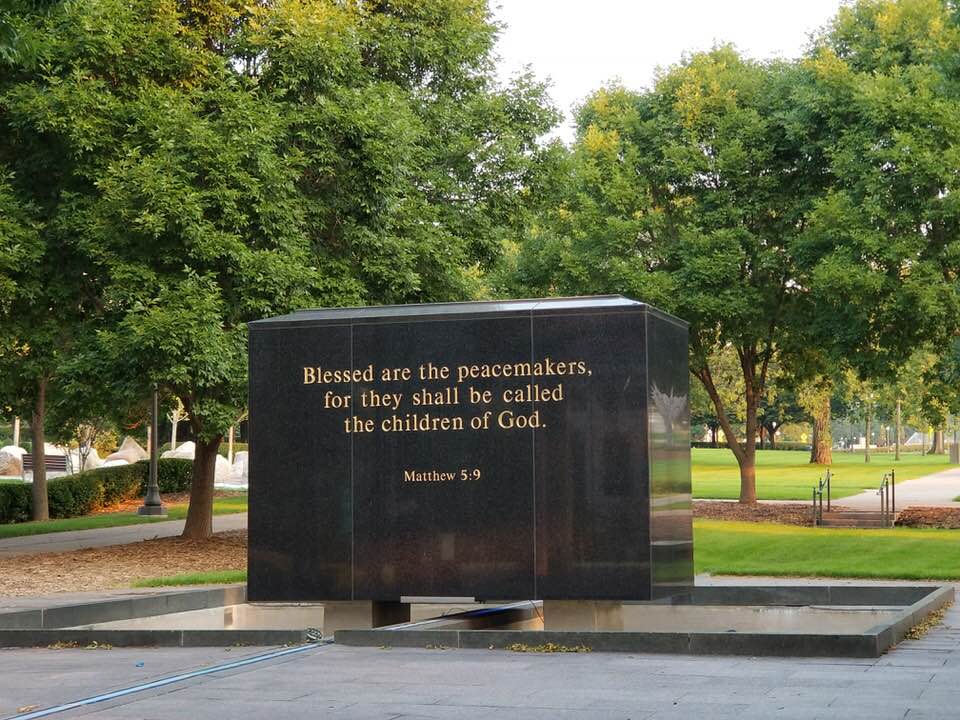 This morning I decided to add to my ride by heading down the hill at the Cathedral and resting in the mall area of the Minnesota State Capital. It's maybe an extra mile. The downhill there awesome. The uphill journey, not so fun, but I highly recommend you take a stroll through there if you never have. There are some inspiring monuments, and many opportunities for reflection and prayer.
I headed there today specifically to pray and capture the hunk of rock below. A friend said it was there and I'd only seen the back side during my Wednesday ride. It was worth the extra effort. It's beautiful, isn't it? Romans 12:18, another favorite, also says, "If possible, on your part, live at peace with everyone."
This can be a tough one especially when we are connected to each other only through our computers. We are constantly communicating with people through our devices, and it's through these very same devices we are learning of things impacting people all over the world. However, this electronic separation can diffuse the real emotion we should have toward and about the people we are reading about or viewing. For some of us, it makes us bolder. Others, meaner. Still others, apathy. Connecting electronically, while it has its benefits, mutes and changes our emotions about whom we are connected and therefore, offers special challenges.
Last week, while I was having a nice discussion with someone on FB, he said something that set me off. The details don't matter. Before I fired off, I thought I'd look at his pictures. His profile pic was of an image and I really don't know this man very well, and thinking back, I almost think it was a God prompting to look at him—to see the man I was typing to. Immediately when I got to his page, seeing a picture of him smiling next to his wife, I was overcome with the sense that he's a person with a story.
Like me, he's had good and bad in his life. He's had events that have shaped him. Things I know nothing of. They could be horrific, or maybe not, BUT I need to value him as a person and offer the greatest level of understanding, compassion, and kindness that I can. He is a person and he deserves it.
We hear about things impacting people all the time. Puerto Rico is without power. There are fires in California. Another child was shot. There was a motorcycle accident. Harley Davidson is moving. The list goes on and on—and in each story, there are REAL live people impacted by each of these things. This is the thing I now know about me, unless I work hard to truly consider each of their needs, their personal story, any response I have will lack the real compassion necessary, and no real peace will be achieved without it.
Dear Heavenly Father, you are the ONLY one who knows each story. Please grace us with Your compassion, Your vision, Your empathy. Jesus modeled the perfect balance of truth and love—through it comes individual harmony and peace. We strive for it, Lord, and will only achieve it with your Divine intervention. Help us, mold us, and empower us today to do Your will. Protect us and those we love and provide us with internal peace, so we may project that calming confidence to others. In Your Mighty Name…
That one felt discombobulated. Maybe too many combined thoughts. Normally they are so inspired that they just fire off and I write it in record time. Until tomorrow…and peeps, give me your prayer requests and update me on previous ones. I love you.