The Clouds Brighten Our Skies
Praying over the City at Cathedral of Saint Paul, National Shrine of the Apostle Paul.
August 3, 2018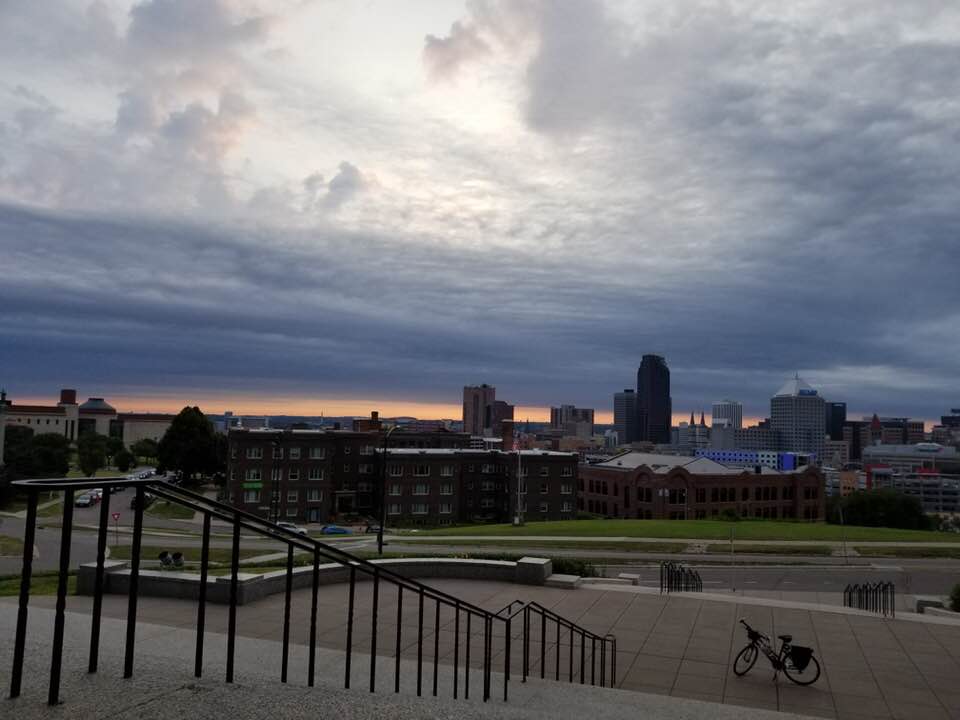 On my ride today, I finally got a peek at a sunrise. The pink on the horizon encouraged me the entire ride. It's a big part of the reason I started riding so early; however, I've never gotten up early enough to catch it. Today means the days are indeed getting shorter. Heck, the weather makes it feel like fall.
I love this picture because of the clouds. I even captured a different vantage point to get the best cloud effect. It looks both ominous and enlightening, and the very interesting thing is the clouds always make the sky look better. We might not always like the clouds, they can bring storms and rain, but when we look at the best sunrises, sunsets, and sky views, they generally always have some cool looking clouds.
Isn't that how life is too? We don't like the clouds, the tough times; however, they add texture to our life that just wouldn't be the same without them. It all we ever had was sunny skies, where would our gratitude lie? There would be nothing to compare the sun too. We need the clouds, we need the rain, we need the storms, to make the sunny skies that much brighter. If we look at the troubled times in our life like an evening thunderstorm that wakes us with its powerful bliss, knowing we are safe inside under God's care, maybe we can simply pray, "Let it roll. I know the sun will shine again." After all, who doesn't love a good thunderstorm?
Dear Heavenly Father, we don't always like the clouds or the rain, but we do trust that You have it all under Your protection and care. You will let the sun shine again and when You do, it will be a bright as always. Sometimes the clouds get us down. It can be tough. Please comfort us bringing good people to our lives to walk with us. Our time here is short. When the clouds come, please give us the energy and motivation to get Your work done.
Love you all dearly. I hope you have the BEST of days, and please, if you have a prayer request, send it over.