Make Me Like You Romans 12:1-2
Praying over the City at Nina's Coffee Cafe.
August 2, 2018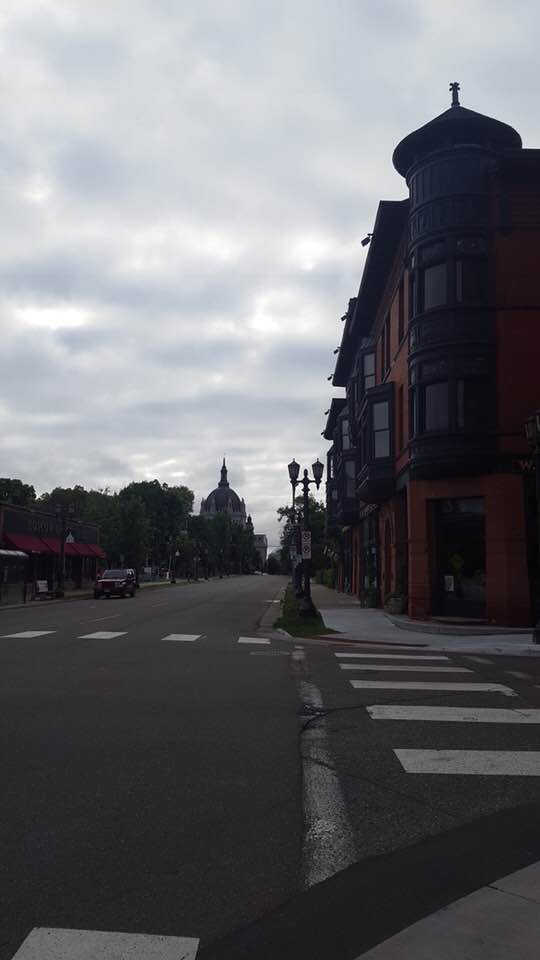 A new view today. This is taken on Selby Avenue on the corner of Western. After my ride to the Cathedral, I normally stop at Nina's to study the Bible and do a bit of writing. When you see my prayers, it's normally from here, and once again, my picture doesn't do justice to the view. If you've never seen it, I highly recommend you bike on over and check it out yourself. Stunning! Truly.
Today's overcast skies remind me of the separation we can sometimes free from God, when things feel gloomy and downcast, and we have a hard time letting the Sun shine in. Times like that can be bleak, and honestly, with the current divisiveness, I think it's very easy to get into this gloomy state. Too much lately seems bleak…
BUT God is moving. God is strong. God has control of this and He will prevail. I used to pray, more than once a day, God (Jesus) give me Your Heart and Your Eyes—let me see the world and the people in it as You do. That's a tough prayer—it's NOT hard to say, it's NOT hard to believe, but when it happens to you, it can be hard to take.
I used to cry—weep, sob—during the news. Each piece would break me, literally, and I'd feel it to my soul. God started putting new information before me—directing me. I couldn't get enough of reading the Scriptures and learning from some of the best Theologian minds. In the course of the last several years, I've become a proud social activist who has a revolutionary different view on our fiscal responsibilities as a nation. I see my place in the world, and the place of the USA, very differently than I ever have. He did change me and gave me a VERY different perspective. In fact, as I biked, I thought about how much new stuff He's helped me to see and feel, and how best for me to share.
Heavenly Father, please touch our lives in only the way You know how, breaking through the darkness to show Your light. Making choices about what to do, whom to believe, and what to choose can be tough. Please light the way making Your right choice abundantly clear. We want to be more like You, Lord, so help us through the changes. Letting go of our past ideas can be scary—there's fear in complete trust so please help increase our faith along the way. You are the ONLY way. We want to stay with You.
Suggested reading is Romans 12:1-2 (keep going…it's all good) as well as Ephesians 4:17-24.
Love you all. If you have some prayer requests, please lay'em on me.