Seeing Things in a New Way Isaiah 1:17
Praying over the city at Cafe Astoria.
August 16, 2018 · Saint Paul ·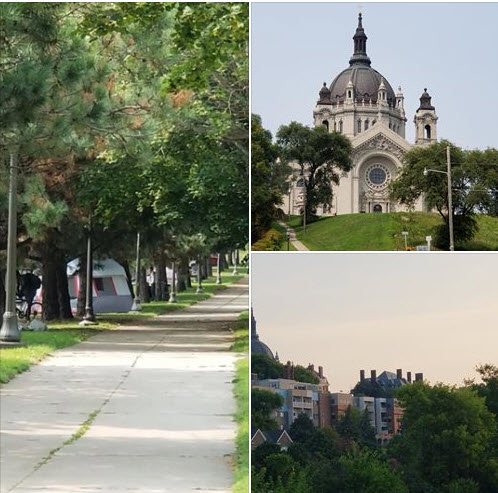 On Saturday, when I rode Black Beauty to the Farmer's Market, I had a chance to see the Cathedral from beneath the hill. The view is awesome (as you can see from the photos below). What I didn't know was there was an entire tent community of the homeless living along I35. Pictures also below. This village is right next to swanky city condos that overlook the city and is looked down upon anyone touring the James J. Hill House, one of the oldest and stately manors in the metro, AND I've been biking to this area all summer and I had no idea it was there all this time.
It is seriously amazing what we can miss and how a new perspective can turn things around. God has been sending me on a journey since the first time I prayed, "Please give me Your eyes and Your heart so that I might see the world as You do." My political stance has done a 180-degree flip—frankly, like many of you, I'm simply disappointed with politics and have yet to find a party that truly represents me. I see injustice in a whole new way. I see people in a whole new way, and I see my role in a brand-new way.
None of this is to say that if you and I don't agree, I am right, and you are wrong. I say this because I believe, without one shred of doubt, that God gives each of us different passion, vision, and perception so that ALL His work gets done. We need to embrace our differences and start paying attention to each other—really talking to each other and listening. Each person, I don't care who you are, if you are connected to Our Creator, you have a story people need to hear.
Which brings us to this tent community. I wanted to stop and talk with them. I wanted to see if I could help, but I was afraid. If you are reading this and would like to go visit with me, let's set a time to do it. Since we've now seen this, we need to be like the Samaritan and walk up to do something to better the life of another. If that doesn't work for you, I know of two activities on Saturday to help the homeless in Saint Paul. Message me or post if you'd like details.
If you'd like to learn more about The Good Samaritan from the Bible, you can find the story in Luke 10:25-37. Another good verse, one that brought me to tears yesterday, is Isaiah 1:17. Micah 6:8 fits right in here too.
Dear Heavenly Father, You are the Master Director. Placing each of us in a unique place to be of use to You. Let us not miss this opportunity! Whatever calling you might have placed on our life—big or small—may we embrace whatever we can do for You and the others around us. Each story matters, each person matters, and may we choose to embrace our differences and pay attention to each story. It's only through that and a connection to You that we have any hope of really doing the work You've called us to do. In Your Mighty and Holy Name…the Name Above All Names…we pray.
Love ya peeps, and if you've got a story to tell me, bring it on. I'm praying for you. We need His Power to make a difference. You've been there for me. I am there for you. Make it a good one!