Mom-Gates of Heaven Cemetary
Today was an emotional and moving day. I took some of my mother's ashes to the gravesite of her parents, Henry & Elizabeth Lariccia.
While there, we also found her grandparents, Frank and Mary Monica Bennetto. Frank would be the gentleman with the giant mustache in the 1907 picture below of the family barbershop. It turns out that this picture was taken while my grandmother Elizabeth was just two years old.
Nearby, we also found the gravesite of my mother's Uncle Rocco and Aunt Lore. Rocco is featured in the picture with the three gentlemen, all the way to the right. (Left to right: My Uncle Hank (my mother's brother), my grandfather (my mother's father), and my great uncle Rocco.) If memory serves me, my grandfather's brother Rocco drove the bus for the Jersey transit. Their daughter Posey was a nun, but we couldn't find her in this family section.
We found another Bennetto gravesite, Alexander & Mary. I can't recall many family stories about them. I believe my mother's cousins, Joani or Roni, mentioned an Alexander. I'll have to call them soon and see if I can fill in a few more blanks.**
It felt so good to be close to the family–so many generations of the family. And a family I have not seen for so long and miss so much. It was comforting. Rest in peace, momma. We miss you so much.
** After a phone call to Joani, it turns out that Alexander and Mary are their parents. My mother's Uncle Al and my grandmother Elizabeth's only brother.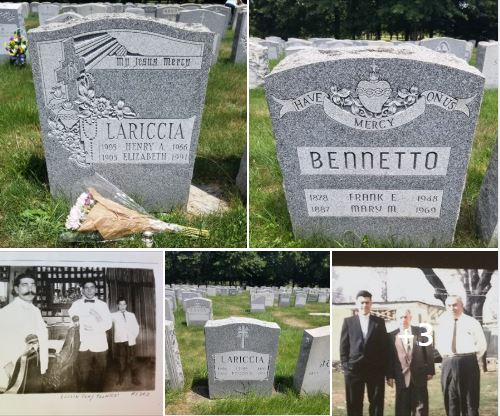 Amor di Madre
Amor Senza Limiti