Into The Light Matthew 11:28-30
Praying over the city in Saint Paul, Minnesota.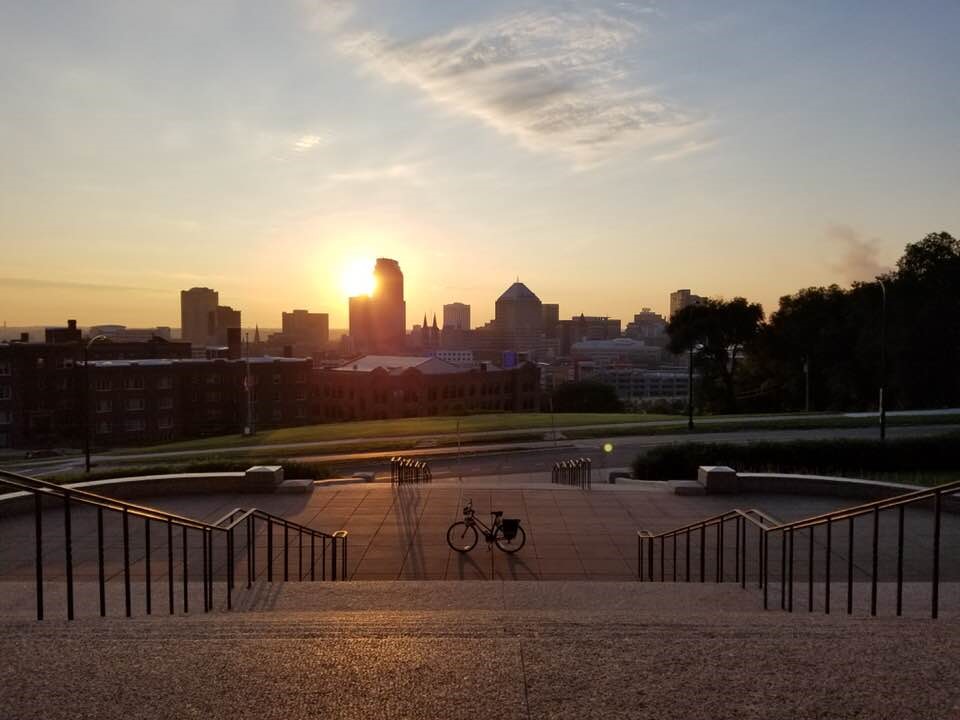 I miss my bike. I miss the sun. I miss my normal schedule and it's interesting how quickly things can get out of whack. I just do not have the same focus, the same drive, or the same connection to God. Working on this website, I've gotten focused on worldly things instead of the Devine and it's darker here.
I never used to be this sensitive to the change. I used to live in the dark a lot. It was my home. It was what I was used to and honestly, it wasn't that bad. I worked hard, did my things, took care of my kids, mostly cared for other people, tried to be moral, and more than not, got along with other people. This darker place is where I used to live and it was fine…until I experienced a difference.
When things in my "darker" world didn't work as well—the job wasn't humming, the friends weren't supportive, the money was dwindling—I turned to God. It's that the norm, right? When things are good, we've got this. When things are bad, God I need you, BUT I am so grateful that God put into place these "issues" that forced me to turn to Him.
There I found the Light and what a difference it made. It reminds me of the first time I put on glasses. I had NO idea how little I could see until I was shown a difference, and now, when I'm outside the Light, I feel it. I miss it. I crave my routine of letting God in first thing and letting Him be my focus through the day.
Dear Heavenly Father, we have so much work to do, but the work goes better when we let you in—when we allow your Light to travel with us. When we rely on You, when we abide, the work is so much easier. Travel with us today and every day. May we be ever reminded to invite You in, to humble ourselves so that You may lift us up. Thank You so much for today and every day. It's in Your Mighty Name we pray…
As I was writing that, I bunch of verses that would work well came to mind. James 4 is a great read and talks about reliance on God. Heck, James even referred to God as the Father of Light, so all 5 chapters are excellent, or you could just go with this one:
Matthew 11:28-30 New International Version (NIV)
"Come to me, all you who are weary and burdened, and I will give you rest. Take my yoke upon you and learn from me, for I am gentle and humble in heart, and you will find rest for your souls. For my yoke is easy and my burden is light."
I love you all and miss you. Please lay your prayer requests on me.