God's Economy Luke 6:38
Praying over the city at Nina's Coffee Cafe.
October 24, 2018· Saint Paul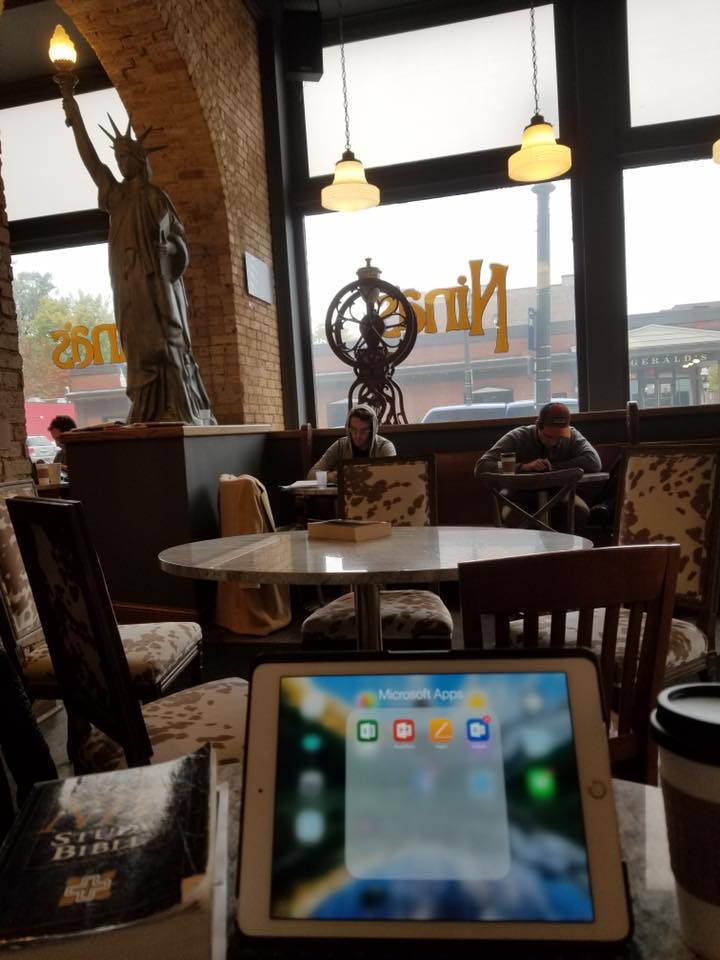 I can already feel the pounds packing on. Not really—not yet, but I miss getting outside to workout. I am simply not as motivated at the gym and cut corners. Plus, the darkness early in the day is demotivating—at least for me. I am still rising early, and I still try to make time for a workout nearly every day. I hope the rest will fall into place. I must have faith and keep working toward the things that are important. The things that I know are good for me and that God wants for me. From there, I need to let Him do the rest.
All of this reminds me of a section of Luke that captured my attention and got me thinking of FAITH. Our trust and full reliance on God, and how we can tell if we have it, and how we can tell when we don't. If you would, read Luke 9:10-17. This is where Jesus fed more than 5,000. They only counted men in those days hence the MORE. (We might feel the same today, but that's a blog/prayer for another day. :D)
In this account, Jesus took five loaves of bread and two fish, fed thousands, and had twelve basketfuls left over. What a miracle and it is one of those stories that is well known, yet when it comes to having faith that God will provide, it is hard to believe.
I've even seen it in my own life. Times when financially I should be doing better, by all accounts in the numbers, I should have more money and yet I cannot get it to stretch as it should. Then other times when I think I won't have enough to meet my obligations, and then sure enough, there is more than enough. It's not in the numbers. It was in the faith. `
I call it God's economy. The ability to create an abundance from very little simply because someone has faith. I see it, normally, when two things are present—generosity and a desire to humbly follow God's will. The problem is I don't always believe in it. I hold back in giving because I am afraid, but when I do that, I miss the opportunity for this miracle. I must ever remind myself that God's economy is like the opposite world. He will make much of very little. He promises this in Luke 6:38 NIV.
"Give, and it will be given to you. A good measure, pressed down, shaken together and running over, will be poured into your lap. For with the measure you use, it will be measured to you."
We need not be afraid to be generous. God is with us in this too. This is also true as we consider the needs of all people in the world. America is so very rich. There is so much we can do to help others. "Give, and it will be given to you." How might God react if we don't take our abundance and make a difference in the lives of others? Following His will and being generous. I need to have faith in God's economy and not fear for my personal future.
Dearest Heavenly Father, every good and perfect gift comes from You. I own NOTHING—it is all from You and I need to be ready at any moment of calling to give it to others. Please help me to see the opportunities where I can feed someone, clothe someone, or help someone feel safe and cared for. Your economy depends on generosity and I want to be part of the transfer of everything good. In Your Mighty and Holy name…
Man, I need to just turn of every distraction when I'm writing. That took way longer than necessary, but that was God's vision for that prayer. I love you all dearly and please let me know if you have any prayer requests. I love our Spiritual connection.