Gloomy Days Psalm 23
Praying over the city at Nina's Coffee Cafe.
August 20, 2018 · Saint Paul ·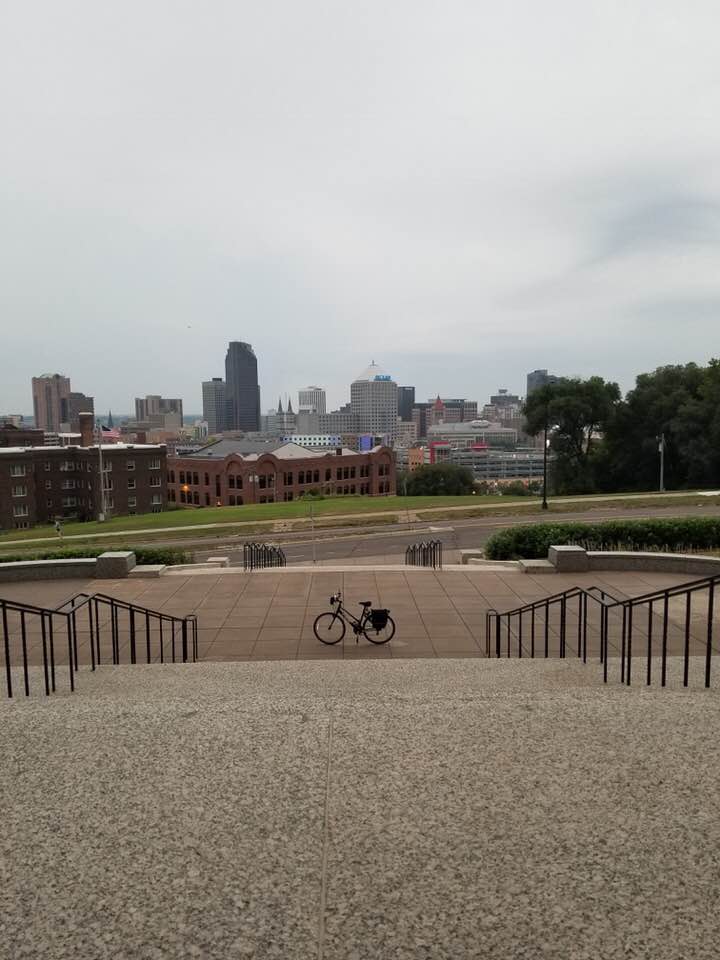 Some days I just don't know what to do. This morning I woke to do my ride and because it's dark later, I hit the snooze a few times. (Good excuse, huh?;)) I knew I wanted to do my ride. I hadn't been out here since last Thursday and I leave again tomorrow. Yes, staying in wasn't a choice, but unlike my normal excitement, the thrill wasn't there.
Maybe it's been the lack of sun. (Praying for California. Some of this haze is smoke…) Maybe it's the decisions I need to make. Maybe it's some of your prayer needs. Some of you are going through some stuff that is heavy on my heart. Maybe it's the worry—all about the future, because today is okay. Whatever the reason, the joy…and the faith just wasn't there. I've prayed about it, sure, but even sitting here, I had no idea what to write and the fog had not lifted.
And really, who cares? I mean really. Every physical need I have, including the need for coffee, is being met at this moment, and everything I could possibly want, or need is before me. Everything weighing down my mind is future stuff, and nearly all of it, I have NO control over anyway. God will play this out His way so I'm giving it ALL to Him.
My only job here is to stay connected to Him and seek His will, then do it. Jeez, just thinking of it, I feel so much better and have so much more to do today…and so much hope. God has brought me this far. He's done so many miraculous things for me and the ones I love. This gloomy day is now a very good one because we have a God that provides. It's just a matter of perspective. (Why can't I remember that? ;))
It's an oldie, but a goodie—all I keep thinking is Psalm 23. Just read it again and yes, that is just what my soul needed.
Dear Heavenly Father, trusting You with ALL things means we may need to turn to You time and again. You are the MOST gracious host. Waiting for us near the still waters, banquet prepared, inviting us to join You. All we need to do is unite ourselves with Your grace and Your goodness. We are so blessed, Lord. Let us NEVER forget that you are the Good Shepard. In Your Mighty and Blessed Name…
I never know where these are going. God truly directs them and, man, did I need that prayer. I love you all deeply. There are a few, like me, with some financial woes. There are others with healing needs. I've been praying about ways to help beyond just prayers. You are on my heart. Much love always. Any other needs lay them on me.