Entrusted with Much Luke 12:48
Praying over the city at Starbucks (234 Snelling Avenue North, Saint Paul, MN).
October 3, 2018 · Saint Paul·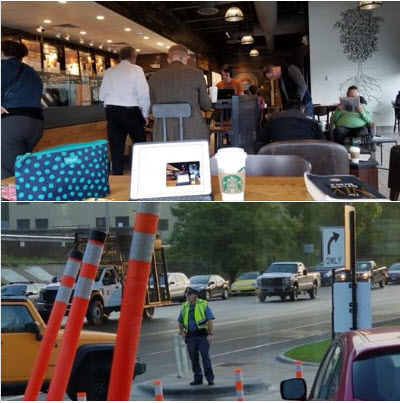 It's raining today so I didn't head out for my morning ride. There are few days left warm enough for me to care to peddle around so all this dampness is especially depressing. I thought about winterizing my bike and I may, but I even hate walking in the winter due to the fear of falling on ice. Riding, in the road with cars, brings that fear to a whole new level.
I am sitting in a Starbucks that has so much traffic they hire an officer to make sure we all know where we should go. Not kidding you, and while I've sat here, there has been a constant, steady stream of people buying very expensive coffee. We all could have made a cup at home. In fact, I did. I had coffee at home before coming here to spend $5 to drink a coffee with chocolate and cream in it, and as soon as I pulled in, I had an overwhelming sense of grief.
Yes, instead of feeling blessed that I live in a country with so many riches, I felt dread for how little we do for others. There is this ENORMOUS disparity of wealth around the world and while here in America, we are bustling through large lines to get coffee, others in the world are walking miles just to try to find clean water. This is not right. No one with a compassionate heart would consider this just.
So, as I sit here, grateful for my blessings, I also feel guilty. What does God ask of me to do? I know I feel compelled to level the playing field, but how can I, just one person, create greater equality when there is such a vast imbalance? Jesus tells us on Luke 12:48, "From everyone who has been given much, much will be demanded; and from the one who has been entrusted with much, much more will be asked."
This is a tall order. We have been given and entrusted with much, and that comes with a BIG responsibility. Sometimes I feel like doing as Jesus asked of the rich man in Matthew 19:21, "If you want to be perfect, go, sell your possessions and give to the poor, and you will have treasure in heaven. Then come, follow me." I know when I left for Europe with only a backpack, that was so liberating. Granted, I still had a full bank account and worried for my finances while I was there. I don't really think that was what Jesus was asking of this wealthy man. The words, "Follow me." Imply, at least to me, I should leave my worries with the wealth too.
This is what I can do today, I can thank God that I am aware and to ask Him to prepare me for whatever He might ask of me. I can't solve this alone, but if we all work together, we can make this world better for everyone resting upon it.
Dearest Heavenly Father, we need to come together to create Your will. There are so many people in the world right now in need, who are suffering. We ask you bring them comfort and Lord, please show each of us what we can do to help them. America is no better than any other country. The blessings we've been given are to be treated with respect. We know you are demanding we do right. Please show us the way. In Your Mighty and Holy name…
Make it a good one, peeps. We've got much work to do. ❤