Back in Business – Genesis 2:2-4
Praying Over the City at Nina's Coffee Cafe.
May 11, 2019 · Saint Paul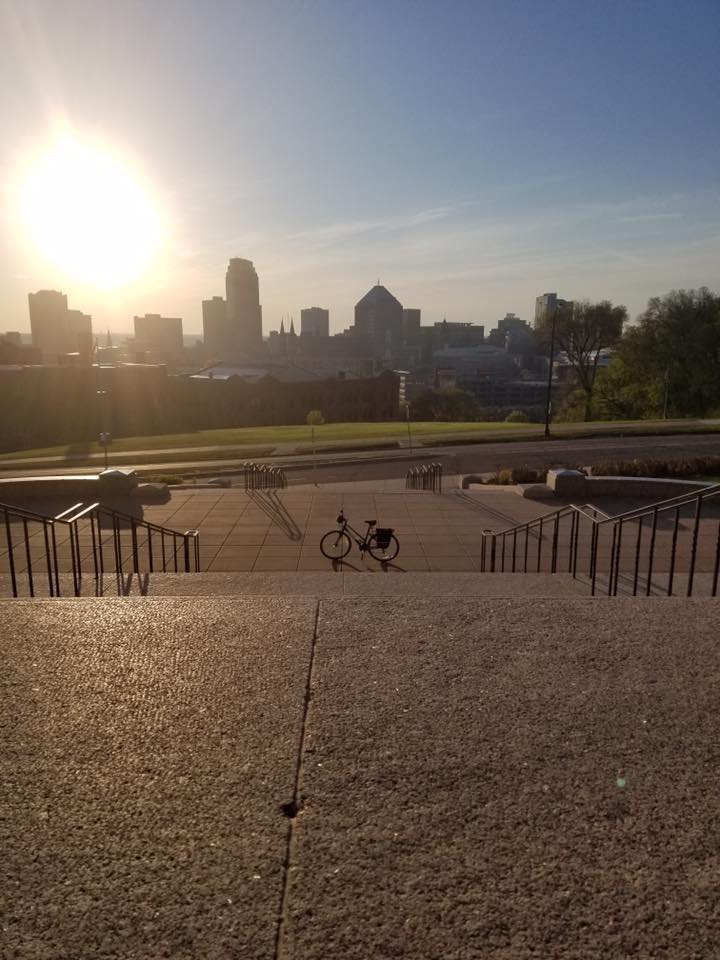 It has been a long road—and winter, but this morning, I finally made it back to the Cathedral for "sunrise". I place the quotation marks around sunrise because I was a little late. I woke, I snoozed, and I putzed around arriving here about 30 minutes after the sun. Not bad, really, for a Saturday morning.
Sometimes we just can't seem to motivate ourselves. Some days we just don't have the same "get up and go", and I don't know about you, but on those days, I'd add another burden to my drag by then berating myself about how I should snap out of it. I try to do that less and less today.
I've spent a lifetime working hard. I've accomplished much and when I look back on some of the busyness, I wonder what the real point was anyway. Sure, the house was clean, but if I yelled at the kids for messing it up, should that really have been the priority? I've closed my office door, pecking away on the latest project, while a co-worker outside struggled with a dilemma afraid to knock. Mowing lawns, completing projects, scrubbing toilets, running errands—I've rushed around completing much, but as I look back, how worthwhile was any of that? I pushed myself so hard. There were times I wanted a break, needed a break, and I would push on through. Yes, accomplishing something, but too often getting angry, frustrated, and drained.
I don't remember allowing myself many breaks, but that really isn't God's plan. In His design of creation, He took a full day to rest (Genesis 2:2-4) and He further tells us we should too. I had a revolutionary moment in my thoughts about the best use of time a few months ago. I was reading JESUS CALLING, and one of them said, "Come rest with me." That essentially our Creator wanted us to take time to rest with Him.
Prior to this, I'd always thought He wanted me to accomplish things—to be of help to Him and the universe, but we have a relational God. If in the rush to get things done, I miss the people or the beauty around me, for what good is all of that really? Now, I take breaks. I lay down mid-day and just breathe in a connection to the Spiritual Power we all really need. It's a charging of my internal battery I wish I'd plugged into long ago.
Dearest Heavenly Father (or Mother), rest is a part of the cycle you created. We need it. We crave it. As we take those moments to slow down with you, please help us to recharge, to gain perspective, and for us to proceed in the directions you desire most for us. We need you. May we fully recognize that and be of the greatest use to you always. In your Holy and Mighty name…