The Righteous Life James 1:19-20
Praying over the City at Bruegger's Bagels (800 Grand Ave, Saint Paul, MN).
December 1, 2018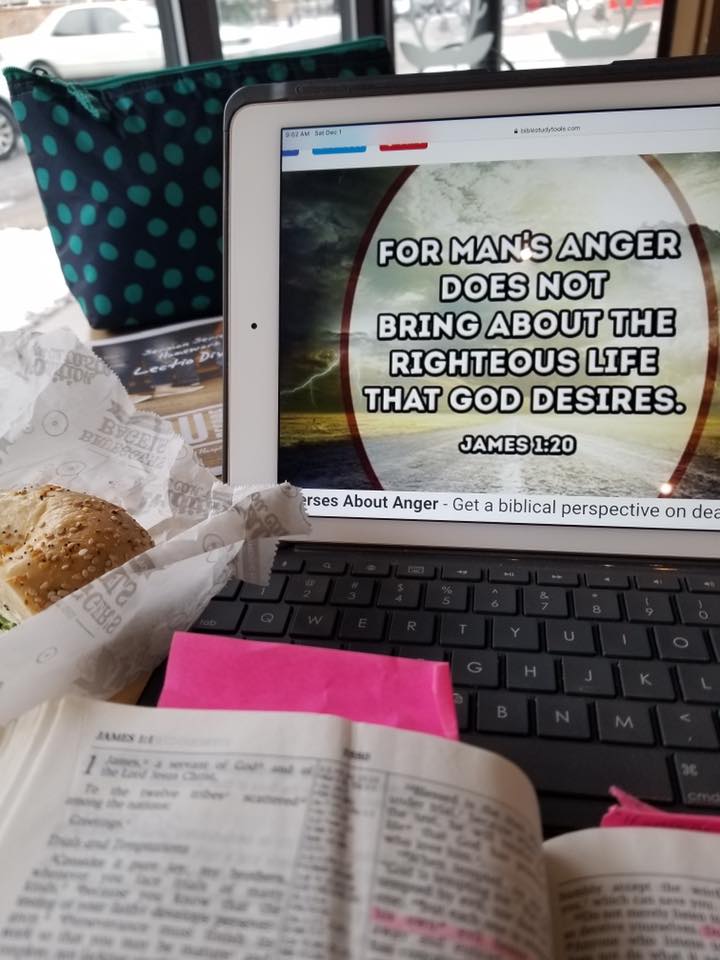 Yesterday I posted a blog, HOW BIG IS YOUR GOD, about a friend's concern about ill-effects stemming from my practice of yoga. That it could have negative spiritual repercussions. In it I referenced how angry I was when she brought this up, and I was. Before hearing much of what she had to say, I told her I didn't want to talk about it. When she pressed it, I became really upset. In fact, even considering trying to talk to her about it now, I can feel that stirring of negative emotion.
This is not good. It is not helpful. While anger can be a healthy motivator to make corrections in life, this level of anger is not healthy for me or for those around me. So, I've been taking some prayerful consideration around this issue to find the root cause, to better understand it, and to reduce or eliminate it in my life.
My therapist has helped me to better understand that some of it stems from my childhood and not being validated. Because as a child my opinion, wants, needs, and desires were not fully supported, I get angry and defensive when I am not heard or feel valued. While I can certainly understand that dynamic, and I can see it in my life, I do not believe that is the full cause in this situation. This was about yoga, for cripe sake. This was not life or death for either one of us. It wasn't even a personal issue in which I might be offended.
As an example, over Thanksgiving break I had the blessed opportunity to spend it with my daughter, her boyfriend, and his parents. While the turkey roasted, her boyfriend's dad was assisting his son with a computer problem. He's an IT guru at a local health insurer. As they discussed fixing it, I chimed in with an option. I am NO IT guru but running my own online business has required me to become proficient with the basics. He blew me off. Not in a mean way, but hardly listened to me.
This is a point where my "defense" of not being validated would be sure to come up, yet in this instance, I simply took it in stride. He is better at that stuff than me and legitimately he doesn't know my background. In the end, it really is NO big deal. NONE and I took no anger or resentment about this instance with me. I was joyful to watch them work together to resolve it.
So, back to my excessive anger issue over yoga, and truly, several other instances like this—mostly surrounding faith and social justice. I have lots of thoughts about this. Too numerous to list here, but this is the BIG IDEA, I must get this under control to be of maximum use to our Creator. NO one is going to listen to an angry, pompous fool chittering on without even really considering the other person.
This morning, as I was challenged by all these ideas and concepts, trying to formulate something to put out here (which in the end, will help heal me) I decided to Google, "bible verses about anger". It brought me to this fabulous list and although I read them all, the first one was EXACTLY what I needed.
I love the book of James. Always have, but I'd missed this very lovely little nugget on prior pass throughs:
My dear brothers and sisters, take note of this: Everyone should be quick to listen, slow to speak and slow to become angry, because human anger does not produce the righteousness that God desires. James 1:19-20 (NIV)
I went on to read many of the verses around this. All very good stuff, but the BIG IDEA God gave me today is, I must invite Him in when I am getting angry. He is the one who owns justice and He is the only one who ever changes a heart. I must invite Him in to give me the words, the ideas, and the heart to truly help Him do the work that only He can do.
Humility is my word of 2018. God chose it for me because I need so much work in this area. It's a tough one too, because just when you think you have "it", you just lost it. Humility is EXACTLY what I need to heal this anger problem. If I have God first, others second, and I am in my proper third place, there is no need for "self-righteous" anger.
Dearest Heavenly Father—you are the Master, you are the Creator, and only you can change a heart and make all things right. May I ever be reminded to get out of your way and to call you into all my difficulties so that I might be of maximum use to the Kingdom. I love you. I love others. May I always shine your loving light through me. In Your Mighty Name…
My gosh, that did feel good. I know I needed that work. Now, to put it in practice. I'm grateful for my flaws. It makes me need Him and keeps me humble. If you have prayer requests, lay'em on me. You are loved.