Love in ALL Things Micah 6:8
Praying over the City at Bruegger's Bagels (800 Grand Ave, Saint Paul, MN).
October 30, 2018 · Saint Paul ·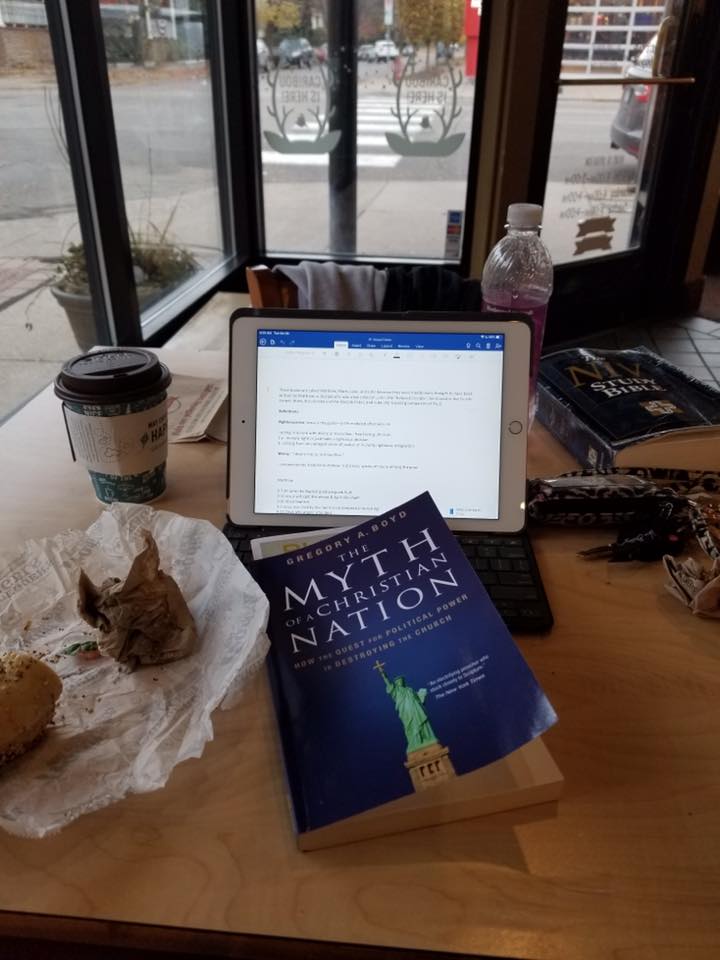 I have not yet figured out a good autumn exercise routine. I thought about scheduling out my week—riding, lifting, yoga with a walk every evening, but I haven't done it yet. Instead, I amble about unsure what to do. I've been working out and getting to the gym, but I can feel it is nowhere near as intense as my morning rides. To lay on the guilt a little more, I keep seeing people braving the dark and the cold on their bikes as I'm driving to the gym. LOL! I sat at the light this morning, looking at a guy in bike shorts atop his red Trek, and thought, "You could do that, Renée." Okay, maybe NOT the shorts at 38 degrees, but I certainly could suit up and turn on the lights on Black Beauty to pedal away anytime I like. There is NO snow yet and there was no rain today.
Instead, I went to the gym and peddled away on one of their spin bikes, which also allows me time to read. I am thinking this may become a bigger part of my routine. My latest journey is through this book, THE MYTH OF A CHRISTIAN NATION, by Greg Boyd, the pastor of Woodland Hills Church in Maplewood. I've been attending there, and it really reflects the passionate faith narrative I see in the Scriptures. In fact, this book is much like the one that I was considering writing. I'm only a few chapters in, maybe my book outline will still be worthwhile, but Greg is hitting the nail on the head—a nail that MUST be hit if we are to truly do the work that Jesus asked of us.
Right now, I have several thoughts floating around in my head all converging on one theme so please bear with me. With God's wisdom, you'll help me work this through to a main thought and/or objective. The section of THE MYTH that I am at is centered in the humility, sacrifice, and love of Christ. That he "won" people over not by force, but through love—which is counterintuitive to our worldly view of dominance.
However, Jesus was also a fighter of truth and justice. Everywhere you look in the gospels, He is bold in His speech. He holds nothing back. He's clear, concise, and does not sugar coat it. Jesus NEVER started a sentence with, "I know you are trying, but…" No—Jesus instead would simply speak the truth even if the truth was a tough pill to swallow.
The way that Jesus humbled Himself was to take the lowliest of these and elevate them. You and me—yes, but really Jesus went beyond that. He took those cast out, previously unwanted, and He brought them right to the front and He placed them above others. In fact, the beatitudes are all about these concepts that are opposite of the way we normally act in our worldly view.
This masterful combination was always part of God's philosophy. In Micah 6:8, God talks about His expectation of us and it really is quite simple, "To act justly and to love mercy and to walk humbly with your God." So powerful are these words to me that they wrap my left arm—the weaker of the two as a reminder to step back and let our Creator do the heavy lifting—and this sentence, in all of 14 words, this is also what Jesus modeled.
I also started reading a masterful meditation each morning from Richard Rohr. This week is on LOVE—ahh, right? Today's devotional focused in on limiting, reducing, eliminating negative thought. So easy to say, but so difficult to always do. However, hanging on to any of that and harboring that "death energy" will only serve to be destructive to our destiny to truly help others and to be of use to our Creator. To serve our purpose, we must center into light and love.
Can you now see why I had many thoughts abounding on this one? The conversion of justice, mercy, and humility is a very tough balancing act—very tough indeed. I struggle with it all the time, but I came to this firm and glorious conclusion today as God bopped me on the head with this word several times, this balance is ONLY possible through LOVE.
Love must be the root, the trunk, the branch, and the leave. Love must run through EVERYTHING I think, speak, and do. Now, what LOVE looks like will be the model for future writings. That too has many facets, misunderstandings, and difficulties as well.
Dearest Heavenly Father, I said it before and I'll say it again. I need you so show me to model love in all that I do. Please give me your eyes, your heart, your courage, your humility so that I may truly reflect your love to others. To do your will, I need you to guide me. Quite simply, I need you. Please walk with me always. In Your Holy and Mighty name…
Man, that was a powerful one—for me anyway. I'm going to enjoy looking into the way God really loves us so that we can model that in our lives. If you have any prayer requests for me, please bring them on. I was blessed to hear two more needs today. This Spiritual connection fuels me. Be blessed.